You are here: Home / Saint Joseph
Joys and sufferings of Joseph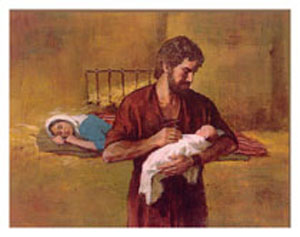 Saint Joseph...
someone who resembles us...
Let us walk with Saint Joseph on our own path of joys and sufferings: they are the WAY to Jesus, his Son, the Risen One.

Let us also take time to admire the seven acrylic ink drawings of Gertrude Crête, s.a.s.v., which illustrate beautifully the life of Saint Joseph: they are an artistic WAY leading us towards God, Creator.

Let Joseph guide us... ON A WAY OF LIFE!
Happy travelling with Joseph
Associated Texts