You are here: Home / Saint Joseph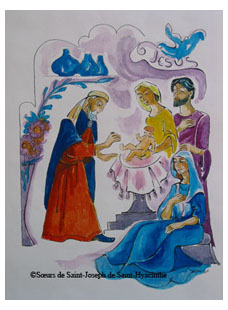 Joseph and Mary are believers who practise the Jewish religion. Eight days after the birth of Jesus, in accordance with the law of the time, they go, with neigh-
bors and relatives, for his circumcision.
Joseph is deeply moved and saddened by the tears of Jesus thus becoming the first witness of the first human sufferings of Jesus.

But what overwhelming joy you feel, Joseph, when God calls upon you to give to your child the name of Jesus... Immanuel… God with us: the name which expresses the human nature of the God made Man, the God who is close to every human being. According to the Jewish tradition, you know very well that to give a name to your child, is to lift him out of anonymity, to give him existence, existen-
ce in your eyes, in the eyes of Mary, and in the eyes of others. The grace of a name, is to express a wish for the child, to reveal what he is called to be in life.
 
 

Lise Berger, sjsh
Go back to last page