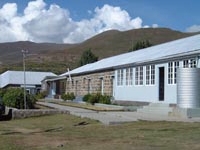 1938-   



GEOGRAPHICAL LOCATION
THE RAFOLATSANE TERRITORY
Rafolatsane is an extensive territory (over 80 square kilometres). It is in the shape of a somewhat irregular quadrangle. On its north side it borders Natal, in the Republic of South Africa. In the south, it extends to Quacha's Nek, and on the west side to Paray. St. James is in the Mokhotlong district which is in the mountainous region of Lesotho. The mission, surrounded by mountains and high hills, is very isolated.

FOUNDING
In August 1996, two former pupils of the Sisters of Saint Joseph left Canada to mission in Basutoland [later renamed Lesotho], after having expressed their hope that some sisters would one day join them in their mission. On December 1936, Mother St. Jean Berchmans (Blanche Meunier) superior general, received a letter from the apostolic vicar in Basotoland, asking for some sisters for the Rafolatsane territory. This founding was then planned for 1939.

FOUNDERS
Sister St. François de Borgia (Irène Hénault)
Sister Marie de l'Annonciation (Lydia Corriveau)
Sister St. Mechtilde (Lumina Leduc)
Sister St. Michel des Anges (Antoinette Brouillard)

AREAS OF COMMITMENT
Whether the sisters work in the schools, in the kitchens or in the dispensaries, they have always been serious collaborators in the evanglization project alongside the Oblate Fathers and Brothers. Today, the sisters teach at St. James High School and at the St. James Primary School. Also, they have a residence for girls who are boarders during the school months. Some sisters care for the sick at the St. James Health Centre. As well, they are involved in the parish.
Go back to last page