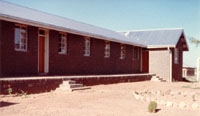 1956-1997



GEOGRAPHICAL LOCATION
The mission of St. David is located twenty kilometers from Maseru, the capital of Lesotho, and 92 kilometers from Roma.

FOUNDING
The mission priests of St. David and of Assumption wanted Sisters of Saint Joseph for their respective missions. Mother St. Madeleine de Pazzi (Sara Cordeau), superior general, did not have the sisters needed for this.
The community missionaries in Lesotho (then called Basotoland) proposed that the number of sisters in the various houses be decreased so that sisters could be made available for these new missions. A letter signed by sixteen missionaries was sent to the superior general. The suggestion was accepted by the general council.
The parish priest of St. David was given two indigenous sisters for his mission. He gave them the rectory as residence and used the dispensary as living quarters for himself.

FOUNDERS
Sister Paulus (Pascalina Molibeli)
Sister Maria Fabiane (Rosalia Silase)
Sister Anna (Anastasia Majoro)

ARRIVAL OF THE CANADIAN SISTERS: January 1957
Sister St. Mechtilde (Lumina Leduc)
Sister Marie Immaculée (Élise Mackeen)

AREAS OF COMMITMENT
The sisters were mostly involved in education. However, some worked in the dispensary. They also visited the sick, and prepared people to receive the sacraments.

DEPARTURE
The sisters withdrew from St. David in 1997.
Go back to last page