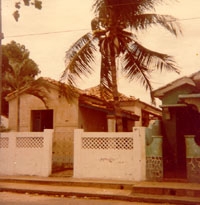 1981-1988



FOUNDING
In answer to Dom Reinaldo Punder, the bishop of the Coroatá diocese, who wanted the presence of Sisters of Saint Joseph in Coroata so they could co-ordinate the catechism program and welcome the people attending diocesan meetings, some members of the Congregation accepted to take up residence in this city. They moved into the humble house of the Sisters of Namur who had moved to the country. The newly-arrived sisters organized their house and soon became active in pastoral work with the parishioners.

FOUNDERS
Sister Madeleine Francoeur
Sister Cécile Pelletier
Sister Monique Lemieux
Sister Marie de Jesus, novice
Sister Marie-de-Jesus Moraes da Silva, novice

DEPARTURE
On March 21, 1988, the sisters left Coroata for good.
Go back to last page