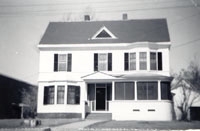 1949-1958; 1960-1970



GEOGRAPHICAL LOCATION
Groveton is east of the Connecticut River in northern New Hampshire and approximately 40 miles from the Canadian border.

FOUNDING
On August 15, 1949, Father Rodolphe Héon, parish priest, came to ask Mother Sainte Madeleine de Pazzi (Sarah Cordeau), superior general, to provide some Sisters of Saint Joseph to teach catechism in his parish.

FOUNDERS
Sister Saint Jean Chrysostome (Marie-Anna Parent)
Sister Madeleine du Crucifix (Laurette Monast)

1st DEPARTURE
On December 2, 1958, Father Héon was named parish priest of Berlin. Following his departure, the sisters were called back to the Mother House. On December 12, they regretfully left the parish and the parishioners were sad to see them go.

RETURN OF THE SISTERS
On September 24, 1960, Father Dupont personally came to get the sisters at the Mother House. Though the convent was not yet ready, he absolutely wanted the sisters to start teaching. The students were to be confirmed at the beginning of November and needed to be prepared right away. The sisters temporarily moved into the rectory, in their former rooms.

FINAL DEPARTURE
On June 4, 1970, the sisters left for good. Some people were present for this leave-taking. It is with regret that they saw the sisters leave.
Go back to last page