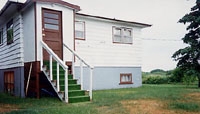 1948-1958; 1980-2002



GEOGRAPHICAL LOCATION
The little parish of St. Ambroise is in southern Manitoba. It is 91 kilometres north-west of Winnipeg.

FIRST FOUNDING
In 1948, Father Gérard Lafaille, OMI, after his unsuccessful attempts to find good teachers for the local school, came to tell Mother St. Jean Berchmans (Blanche Meunier), superior general, about this situation and to ask for sisters for St. Ambroise.

FOUNDERS
Sister St. Paul (Rosa Lacroix)
Sister St. Patrice (Adelaide Lautsch)
Sister St. Boniface (Élisa Dufault) as of November
a lay teacher, Miss Yvonne Gosseye

EVENT
On May 12, 1958, the convent caught fire. The four sisters living there at the time moved into another house until they moved away for good in June.

REOPENING OF THE MISSION
In May 1980, Father Hilaire Gagné asked the authorities of the congregation whether some Sisters of Saint Joseph could come to work in St. Ambroise: co-ordinating the catechetics program, preparing the people who participated in the liturgies, providing guidance for the youth by preparing weekend pastoral activities for them.
On August 28, the parishioners of St. Ambroise were ready to welcome the two sisters designated for this work: Sister Claire Ferland and Sister Bernadette Drapeau.

MISSION
The sisters were involved in the following activities in this milieu: visiting families, preparing the young to receive the sacraments, visiting the sick, Sunday catechetics classes, marriage preparation classes, taking communion to the shut-ins.

DEPARTURE
The sisters left for good in the spring of 2002.
Go back to last page