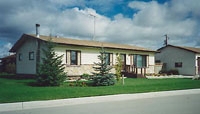 1901-2007



GEOGRAPHICAL LOCATION
Notre-Dame-de-Lorette is situated 16 miles south of St Boniface and Winnipeg and north-west of Sainte-Anne-des-Chênes.

FOUNDING
On December 10, 1901, Mgr Adélard Langevin, OMI, archbishop of Saint-Boniface, in a visit to Mgr Louis-Zéphirin Moreau, begs him to provide Sisters of Saint Joseph for Lorette and for the Indian mission of Lac Croche (Marieval). On February 6, 1901, Mother Sainte-Anne (Apolline Dancause), General Superior and her Council, accept to honor the request.

FOUNDERS
Sister Saint-Louis-de-Gonzague (Élise Blanchette)
Sister Saint-Léon (Alida Robichaud)
Sister Sainte-Anastasie (Rose-Alma Bélisle)
Sister Saint-Jean-Baptiste (Marie-Luce Cormier)

IN 1957, THE CONGREGATION BUILDS A NEW CONVENT
On May 14, 1959, the Sisters and boarders move into our new convent.

MOVING
On September 5, 1992, the Sisters gather for a last time in the big convent of Lorette before taking up residence in a much smaller house on Dubuc Bay.

COMMITMENTS
In 1993, no teaching Sisters remain in Lorette. The main work in this locality consists of: private French lessons, translating services, participation in the French choir, organist at church twice monthly, visits to the sick, spiritual contribution to the Seniors? Club and the Catholic Women's League.

DEPARTURE
After 106 years, the sisters left Lorette in 2007.
Go back to last page