Ville Lemoyne : St. Maxime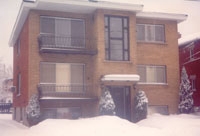 1990-2002



GEOGRAPHICAL LOCATION
Ville Lemoyne is surrounded by: Longueuil in the north, St. Lambert in the west, Greenfield Park in the south and St. Hubert in the east.

FOUNDING
On July 2, 1990, three sisters arrived to take up residence on Charron Street not far from St. Maxime Church which is in the centre of the parish.

FOUNDERS
Sister Marie-Reine Deslandes
Sister Aline Genest
Sister Monique Lamontagne

AREAS OF COMMITMENTS
Two sister were mainly involved in co-ordinating parish services and the other offered workshops on personal development.

DEPARTURE
The sisters withdrew from this parish in June 2002.
Go back to last page