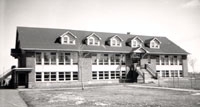 1954-1990


GEOGRAPHICAL LOCATION
This parish is located in a tourist area on the shores of the Richelieu River. It neighbours the parishes of St. Jean Baptist, Marieville, and Richelieu of which it is the mother-parish.

FOUNDING
The Sisters of Saint Joseph were asked to manage the newly centralized school build in 1954. The local people, having hoped for sisters for nine years because they were known to be essentially "parish sisters", were very anxious to see them take over the school. Father Louis-Philippe Phaneuf, parish priest, publicly welcomed them during Sunday mass and asked the parents to second the work done by the sisters for the increased good of their children.

FOUNDERS
Sister Sainte-Suzanne (Lucienne Ballard)
Sister Saint-Edme (Gabrielle Girouard)
Sister Marie-de-Béthanie (Gertrude Routhier)

DEPARTURE
On July 2, 1990, the Sisters of Saint Joseph left the parish after 36 years of dedicated work with the children. Mission accomplished.
Go back to last page