Ville Lemoyne : St. Josaphat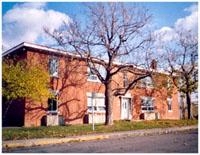 1995-   



GEOGRAPHICAL LOCATION
Ville Lemoyne is surrounded by: Longueuil on the north side, St. Lambert on the west side, Greenfield Park on the south side and St. Hubert on the east side.

FOUNDERS
Sister Marie-Claire Dupont
Sister Pauline Phaneuf
Sister Mariette Tellier
Sister Suzanne Déziel
Sister Suzanne Leduc
Sister Diane Tardif

AREAS OF COMMITMENTS
The group of sisters living in St. Josephat have been involved in the community organization "La Maison de la Famille" since 1996. This project came into existence thanks to the collaboration of the CLSC [Local Community Health Centre], the parents of Ville Lemoyne and the sisters. The "Maison" offers day a care service, coffee-encounters, and help with homework. Sister Mariette is a volunteer in the day care service, Sister Suzanne helps with homework,. Sister Mraie-Claire is a member of the organization and helps when she can. Sister Pauline is responsible for activities. She also co-ordinates the volunteers and does the accounting.
Go back to last page