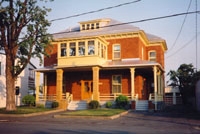 CENTRE DE BÉNÉVOLAT RICHELIEU INC. DE SOREL
1972-1974
SOREL (St. Pierre)
19742011
SOREL (Hôtel Dieu Street)
2011- 2012
SOREL (Victoria Street)
2012-    

 

GEOGRAPHICAL LOCATION
St. Pierre de Sorel extends north to the limits of St. Anne, south towards the Richelieu River and St. Joseph parish, east towards **** parish, and west towards the St. Lawrence River.

FOUNDING
Prior to 1972, the Volunteer Centre was managed by three Sisters of Charity of Namur, a Belgian community. Given the lack of new vocations, the authorities of this community called their sisters back to Europe.
The Federation of Community Services which funded this project then turned to the Sisters of Saint Joseph of Saint Hyacinthe to provide continuity. In May 1972, this responsibility was entrusted to Sister Sylvette Goulet.

FOUNDERS
Sister Sylvette Goulet
Sister Aline Genest

CHANGES
On April 11, 1974, the Sisters of Saint Joseph acquired a house on Georges Street. The twelve sisters who lived there were: teachers, housekeepers at the rectory, or employees of the Volunteer Centre.

AREAS OF COMMITMENT
This community group is currently comprised of nine sisters. They are involved in their neighbourhood which is a low income sector of Old Sorel. The neighbours are mainly elderly and poor. The sisters are close to the people and have a good relationship with those living close by. Most of the sisters work as volunteers is various non-profit community organizations. They collaborate in parish liturgy. Some are involved in faith education. Others are present in the school milieu. Their address is well known and they are an important part of their neighbourhood.
Go back to last page