Sorel (St. Gabriel Lalemant)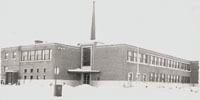 1953-2002



GEOGRAPHICAL LOCATION
This parish is located in Sorel and its neighbours are Notre Dame and St. Maxime, also parishes in Sorel. The neighbouring towns are St. Victoire and St. Ours.

FOUNDERS
Sister St. Pierre Claver (Aldéa Mathieu)
Sister St. Julie (Valsérine Cabana)
Sister St. Solange (Lucienne Langelier)
Sister St. Estelle (Flore Brault)
Sister St. Firmin (Robertine Martel)
Sister Agathe du Sacre Coeur (Simonne Tétrault)
Sister St. Azarie (Lucile Deslauriers)
Sister St. Agnes du Sauveur (Florence Deslauriers)
Sister Joseph Marie (Rose-Aimée Roy)
Sister Andre de la Croix (Marielle Capistran)

MOVE
On June 27, 1988, the sisters moved into a house bought by the community on the corner of Brebeuf and Carignan Streets.

DEPARTURE
In June 2002, the sisters withdrew from this parish.
Go back to last page