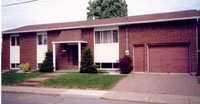 1944-2015    



GEOGRAPHICAL LOCATION
The parish of St. Julie is an offshoot of Varennes and Beloeil. Its neighbours are: Boucherville on the north east side, Varennes and Vercheres on the north west side, Beloeil and St. Bruno on the south west side.

FOUNDING
In August 1943, Father Orphée Thouin, with the consent of the school board, asked Mother St. Jean Berchmans (Blanche Meunier), superior general, for sisters for the town school which had been managed by lay teachers since 1851.

FOUNDERS
Sister St. Yves (Angélina Bernier)
Sister St. Alphonse Rodriguez (Marie-Louise Plouffe)
Sister St. Claire (Claire St. Germain)

MOVE
In 1974, the school board needed extra space for the pupils. The sister therefore left their residence which was part of the school block and moved to another residence, on St. Louis Street.
On August 30, 1975, there was another move, this time to 1685 St. Philomene Street.

CHANGE
In 1998, there were no longer any sisters residing at this address. However the house was kept open and was used as a drop-in centre.
In 2001, the sisters once again returned to take up residence in this house.

COMMITMENTS
The sisters are currently involved in education and in humanitarian works. They are volunteers in community organizations in St. Julie and / or Longueuil. They provide personalized and diversified help to individuals in need. They also assist disadvantaged people with various types of needs. Whether working for the betterment of women, providing emergency assistance, helping with accounting, or teaching school dropouts, the sisters do their best to the meet current and growing needs of the milieu.

DEPARTURE: The sisters leave definitively in 2015 after 71 years of presence in this parish.
Go back to last page