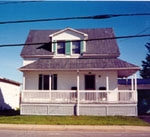 1921-2012   



GEOGRAPHICAL LOCATION
This agricultural town is a parish in the diocese of St. Hyacinthe. It is next to Wickham which is in Drummond County. St. Theodore is south of St. Nazaire, east of St. Ephrem d'Upton, north of St. Andre d'Acton.

FOUNDERS
Sister St. Madeleine de Pazzi (Sara Cordeau)
Sister St. Eugene (Delvina Vincent)
Sister Joseph du Sacre Coeur (Marie-Anna Péloquin)
Sister St. Mechtilde (Olivine Lapalme)

CHANGES
As of September 1988, the sisters were no longer regular teachers at the school. One was a pastoral worker at the school and in the parish and another was a substitute teacher.

AREAS OF COMMITMENTS
The sisters in St. Theodore have always been perceived by the parishioners as "lightning rods". [To French-speaking people, this term is applied to someone who keeps others safe from harm.] The sisters are currently active in education, in pastoral work, in church services; they are attentive to the disadvantaged. These are all means by which the sisters want to be "Good News". Their many visits with the elderly and their outings with them are moments of leisure and of joy. They try to be Christian witnesses in their living milieu.

DEPARTURE
On June 2012, after having been present and involved in education there for 91 years, the sisters left this mission. 
Go back to last page