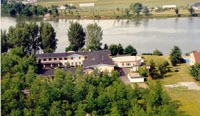 1967-2016    



GEOGRAPHICAL LOCATION
The town of St. Ours, located on the shore of the Richelieu River, is 52 kilometres downstream from Chambly and 23 kilometres upstream from Sorel. It is about halfway between Sorel and Beloeil.
Across the river is the town of St. Roch. The Sisters of Saint Joseph have a rest home in the north section the St. Ours. This property is 23 kilometres from St. Hyacinthe.

FOUNDING
In June 1967, the congregation bought a piece of land in the parish of St. Ours. A small cottage located on the land was included in the purchase. Plans were made to build a large rest home on this lot and construction was started.

FOUNDERS
Sister Yvonne Archambault
Sister Louisia Capistran
Sister Denise Robidoux
On August 23, 1967, they temporarily took up residence in the four-room cottage which included two bedrooms, a kitchen and a living room.

AREAS OF COMMITMENT
The St. Joseph Villa is intended to be a rest home for the sisters of the congregation first of all and occasionally for sisters from other congregations. The sisters who are permanent residents of the house form a local community group. They offer their hospitality and are attentive to the needs of those who are temporarily in residence for a rest or a vacation.

DEPARTURE
The St-Ours house was sold in October 2016.
Go back to last page