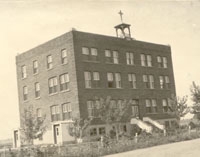 1928-2002



GEOGRAPHICAL LOCATION
This parish is located on the shore of the Richelieu River, between Beloeil and St. Anthoine. It is across the river from St. Charles.

FOUNDING
In 1928, Father J.-Albert Véniza, parish priest, asked Bishop Fabien-Zoël Decelles of St. Hyacinthe, for some Sisters of Saint Joseph. Mother St. Maxime (Marie-Louise Bouvier), superior general, designated six sisters for this new apostolate.

FOUNDERS
Sister St. Raymond de Pennafort (Augustine Girard)
Sister St. Seraphine (Albina Lavallée)
Sister Marie des Seraphins (Marie-Ange Ménard)
Sister du Précieux Sang (Marie Dufresne)
Sister Marie des Archanges (Cécile Cloutier)
Sister St. Mathieu (Edwina Larivière)

CHANGES
As of September 2000, there were no longer any sisters working at the school. However, the parish continued to benefit from their services in various ways: liturgy committee, religious awakening, visits to the sick or the disabled.

DEPARTURE
In June 2002, the sisters left the parish of St. Marc sur Richelieu.
Go back to last page