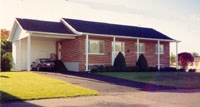 1905-2007



GEOGRAPHICAL LOCATION
The parish of St. Liboire extends to St. Helene on its north side, to St. Ephrem d'Upton on its east side, to St. Valerien on its south east side, to St. Dominique on the south west side, to St. Rosalie on the west, and St. Simon on the north west side.

FOUNDING
In 1905, the parish priest presented the school board's request for sisters to Mother St. Anne (Apolline Dancause), superior general. The sisters were requested for September. The request received an affirmative answer.

FOUNDERS
Sister St. Alexis (Rose-Alma Sylvestre)
Sister St. Etienne (Marie-Louise Hébert)
Sister St. Ambroise (Virginie Desmarais)
Sister St. François de Paule (Alma Leblanc)
Sister St. Theotiste (Georgiana Leduc)

DEPARTURE
In 2007, the sisters left this house for good.
Go back to last page