Saint Hyacinthe (St. Eugénie)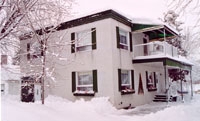 1984-   



GEOGRAPHICAL LOCATION
Douville is located next to St. Hyacinthe. Its boundaries are Casavant Boulevard, the Yamaska River and St. Damase parish.

FOUNDING
In 1984, the congregation purchased a two-story building on Bourget Street, to be used as a formation centre.

FOUNDERS
Sister Jeannine Deslandes, mistress of novices
Sister Jeanne Brisson, mistress of postulants
Johanne Coulombe, novice
Ginette Fortier, postulant
Rita Jeanson, postulant

A CHANGE OF VOCATION
In 1988, the vocation of the house was changed. It became a boarding house for college girls.

PERSONNEL
Sister Michelle Gill
Sister Henriette Gemme
Sister Francine Lussier

FUNCTIONING
Four girls boarded in the four available rooms. They set up a project for communal living, The project had a spiritual dimension as well a material one. The girls participated in discussions on love, the disadvantaged, etc. They met missionaries or young sisters. They celebrated religious holidays, birthdays and shared the Word of God. This was and is quite an undertaking.

COMMITMENTS
The Bourget Street community group is currently comprised of four sisters. They offer four college-level girls, attending the local community college or the agricultural institute, an environment that favours study and their human and spiritual development. The sisters also have leadership and administration roles within the congregation and are present and involved in St. Eugenie parish.
Go back to last page