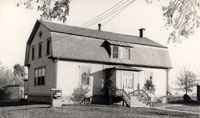 1913-1987


GEOGRAPHICAL LOCATION
The parish of St. Marcel is located in the south west section of Richelieu County. The parishes of St. Hugues, St. David and St. Guillaume are its north and east side neighbours. The Yamaska River separates it from St. Louis and St. Aime on its west and north west sides.

FOUNDING
In 1912, the local school board bought a building that was formerly a store from Mr. Roch Guilbault. This building was modified and became the long-awaited convent. The general council of the Sisters of Saint Joseph of Saint Hyacinthe had accepted the request made by the members of the school board.

FOUNDERS
Sister St. Rosalie (Aloysia Coderre)
Sister St. Imelda (Marie-Rose Duhamel)
Sister Marie de l'Incarnation (Marie Mousseau)

DEPARTURE
In 1987, the sisters left St. Marcel for good. The parishioners regretted losing the sisters after having benefited from their dedicated work for 74 years.
Go back to last page