Saint Hyacinthe (Moreau Residence)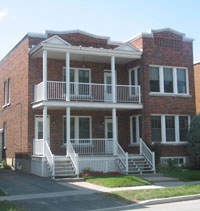 1985-2004



PROJECT
Forming a three-member fraternity (plus one lay person) to live a common project of sharing with young troubled girls and welcoming in our house seven days a week, girls of 12 to 18 years, referred to us by the Centre of Social Services of Saint Hyacinthe.

FOUNDERS
Sister Suzanne Gloutnez
Sister Micheline Savoie
Sister Lise Pion
Marie-Josée Riendeau (lay person)

FOUNDING
In August, two girls aged 16 and 15 are welcomed. In November, another appears. The project works so well that six young girls were welcomed during the first year. From the opening of the house until the summer of 1991, the house sheltered 26 young girls referred by the Centre for Social Services.

NEW VOCATION
In 1995, the house is inhabited by six Sisters who work for the parish in community, humanitarian, and volunteer organizations.

DEPARTURE
The sisters left this house in June 2004.
Go back to last page