Saint Hyacinthe (Sacred Hearth)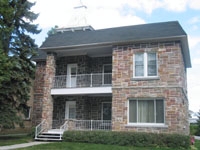 1990-2003



FOUNDING
The Sisters of Sainte Anne Street move on Laframboise Street. In July 1990, this new residence opens to a new group of Sisters. This house is located in the centre of the city of Saint Hyacinthe and facilitates commitments in various activities in that sector.

FOUNDERS
Sister Huguette Collette
Sister Albanie Blain
Sister Lucille Bernard
Sister Pauline Larocque
Sister Denise Rivard
Sister Monique Laroche
Sister Germaine Deslandes, affiliated
Sister Suzanne Gloutnez, affiliated

DEPARTURE
In September 2003, the sisters left this house for good.
Go back to last page