Saint Hyacinthe (Bergeron Residence)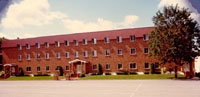 1977-2004



FOUNDERS
Sisters: Thérèse Cournoyer, Jacqueline Comeau, Thérèse Tougas, Annette Laplume, Pierrette Tremblay, Ghislaine Salvail, Reine Salvas, Simone Tougas, Marie-Anne Rivard, Lucie Arpin, Laure Cournoyer, Florida Bouvier, Gertrude Benoit, Aline Plante, Noëlla Doyon, Rita Cournoyer, Thérèse Lachapelle, Lucille Vary, Lucienne Carrière, Jeannette Dugas, Aline Genest, Pierrette Comtois, Réjeanne Authier, Lise Daigneault, Denise Genest, Michelle Gill, Madeleine Beauregard, Denise Rochon, Diane Beauregard.

Thirty-one sisters were permanent residents of this house in 1977. It was also the temporary resident of foreign missionaries while they were in Canada, of student-sisters on vacation and of sisters passing through St. Hyacinthe.

FIRE AT THE RESIDENCE
On May 8, 1993, a bolt of lightning strikes the roof of the Residence. It destroys the front part of the roof and the third floor. Water pours down within the walls and onto the floors. The victims of the disaster are lodged at the Mother House and the neighboring residences. December 6, 1993, seven months after the disaster, marks the return to a restored Residence.

AREAS OF COMMITMENT
The Bergeron Residence was built in order to regroup under the same roof a number of sisters involved in community, humanitarian and social services. Many of the sisters currently work at the Mother House at various tasks while others are involved in pastoral activities at the diocesan or parish level, or at the hospital. Some accompany people in the spiritual journey. Others give of themselves wherever there are poor or illiterate people who need help, support or an attentive ear.

We close this house in October 2004.
Go back to last page