S. Hyacinthe (N. D. du Rosaire (Girouard Street))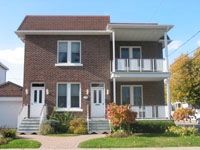 1984-2009



PROJECT
For a number of years, the rooms on the second floor of this house were used by student boarders attending St. Joseph High School. The sisters living in the house were present to the students, offering them their support and friendship. In 1989, the house became the residence of the sisters working at the Notre Dame Pavilion and at the "Arc en Ciel" home for the disabled. The student boarder project was discontinued.

FOUNDERS
Sister Robertine Roy
Sister Réjeanne Deslandes
Sister Louise Bibeau

AREAS OF COMMITMENT
Presently, the sisters residing at this address make themselves present to one another and show interest in one another's commitments. They try to be available for various services to others according to the invitations they receive from their milieu.

Closed in 2009.
Go back to last page