Saint Hyacinthe (Christ the King)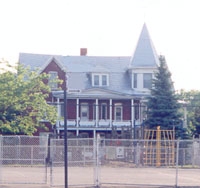 1985-2004



GEOGRAPHICAL LOCATION
The parish of Christ the King is located near the Yamaska River and is an offshoot of the Cathedral parish.

PROJECT
Before the sisters became involved there had been an earlier project called: "L'Église sur la place" [The Church in the Public Place]. This initial project had evolved into "l'Unité Trinitaire Inc." where people came together to share their thoughts, to pray, to learn how to evangelize in their own milieus. The requirements?  Prayer, fasting, almsgiving, volunteer work. This project was created with the co-operation of priests, sisters from the different St. Hyacinthe congregations, and a number of lay people in September 1983.

FOUNDERS
Sister Madeleine Cadieux
Sister Lise Berger
These sisters replaced Sister Monique Bélisle, p.m.  They took on the management of the "Unité Trinitaire" in 1985.

A NEW NAME
On February 9, 1986, at a general meeting of the "Unité Trinitaire" board of directors, the project was renamed: "La Margelle".

DEPARTURE
In June 29, 2004, the sisters left the parish.
Go back to last page