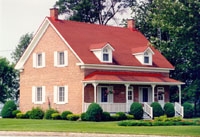 1949-1976
1978-2010



GEOGRAPHICAL LOCATION
The parish of La Presentation is situated nine and a half kilometres north-east of St. Hyacinthe.

FOUNDING OF THE CONVENT
The school board presented its request to Mother Sainte-Madeleine-de-Pazzi (Sarah Cordeau), superior general, asking for sisters to manage the town school. She agreed with the school board's request, on behalf of the congregation, and three sisters were promised for September 1949.

FOUNDERS
Sister St. François Xavier (Yvonne Saint-Pierre)
Sister Marie du Rédempteur (Germaine Deslandes)
Sister St. Conrad (Réjeanne Bonneville)

"HOUSE OF MEMORIES"
In 1978, the sisters returned to the parish. They took up residence in the old school. In September 1985, the house where the sacristan and his family had lived became the sisters' residence and they moved in, on January 29, 1986. This house, called the "House of Memories" is situated on Church Street.

AREAS OF COMMITMENT
In solidarity with the Christian community, the sisters give their support in many religious activities (choir, liturgical readings, sacristy). They are sensitive to all that touches the life of the people in this milieu. By their human and evangelical presence, they try to show the local people the face of the community's foundress who was born in this place. All their apostolic activities, whether in the immediate area or beyond, is centred on this realty.

DEPARTURE
The sisters left the mission in 2010.
Go back to last page