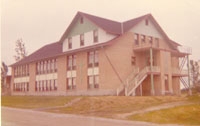 1949-1984


GEOGRAPHICAL LOCATION
The parish of St. Hyacinthe, part of the St. Hyacinthe diocese, is 32 kilometres from the city of St. Hyacinthe and 28 kilometres from Sorel.
Its neighbours are: north, St. Aime; east, St. Marcel and St. Hugues; south, St. Jude; west, St. Bernard and St. Victoire. Formerly called St. Louis de Bonsecours, it received its current name in 1876.

FOUNDING
The convent of St. Louis was founded because of the generosity of Mr. and Mrs. Joseph Proulx. These kind people donated their house on the corner of Thiercent and St. Marcel Streets to the sisters. Father Pierre-Émilien Chagnon, parish priest, and Mr. Louis-Aimé Lavallée, president of the school board, undertook the necessary procedures with the authorities of the community to obtain sisters to manage the town school. The sisters arrived on August 18, 1949.

FOUNDERS
Sister Marie St. Paul (Emma Benoit)
Sister St. Rosalie (Aloysia Coderre)
Sister St. Laurent (Béatrice Laliberté)
Sister Marie St. Maurice (Jeannine Couture)

DEPARTURE
The sisters left in 1984.
Go back to last page