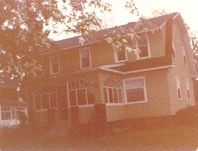 1886-2015


GEOGRAPHICAL LOCATION
Bedford is a small city in the Eastern Townships. It is situated on the ..... shore of the Brochet River, not far from Bay Missisquoi and about halfway between Notre Dame of Stanbridge and Pike River. It s northern limits border on St. Ignace of Stanbridge. On its southern limits, it borders on Phillipsburg, St. Armand, and Pigeon Hill, all near the American border.

FOUNDING
Most of the people living in Bedford were English-speaking and members of the Anglican or Methodist Churches. Believing that their children needed firm religious convictions to protect themselves from the dangers of a Protestant environment, the board members of Bedford's dissident schools asked Bishop Moreau to send them some Sisters of Saint Joseph. Their plea, along with Father Louis Léonard Boivin's insistence received an affirmative answer.

FOUNDERS
Sister Marie Joseph (Adèle Dancause)
Sister Saint Patrice (Anna Ranson)
Sister Marguerite Marie (Philomène Dufresne)
Sister du Saint Nom de Jésus (Cléophée Leblanc)
Sister Therese de Jesus (Adélina Plante)

COMMITMENT IN THE MILIEU
At the present time, only one sister lives and works in Bedford. She provides leadership for the Unité des Frontières which regroups six parishes. She is responsible for preparing people to become Christians via the sacraments. With a team, she accompanies parents and children throughout the process. She is also involved in community organizations in the milieu through her work on the board of directors for E.M.E. (Entraide Mère et Enfants) [Help to Mothers and Children], ROC, (Regroupement des organismes communautaires) [Regrouped Community Organizations] and the board of Bishop Desranleau School.
DEPARTURE
Following the death of our sister in June 2015, this mission was closed. The sisters assured a presence in this parish for 129 years.
Go back to last page