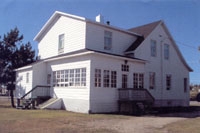 1949-2007


GEOGRAPHICAL LOCATION
This village is situated on the north shore of the Gulf of Saint Lawrence, in the township of Monts, at the western mouth of the Trinité River, between the parishes of Godbout and Pentecôte.

FOUNDING
Father Jean-Charles Gamache, the parish priest, conceived the project of building a large school. After obtaining the necessary grants, he was able to realize his noble plan in 1948. Wishing to have religious teachers, he sent a request to the Sisters of Saint Joseph of Saint Hyacinthe. Mother Sainte-Madeleine-de-Pazzi (Sara Cordeau), general superior, granted his request.

FOUNDERS
Sister Madeleine-des-Anges (Jeannette Gaboury)
Sister Saint-Pierre d?Alexandrie (Aline Larivière)
Sister Françoise-de-Lisieux (Suzanne Ménard)
Sister Rose-du-Sacré-Coeur (Denise Trudeau)

MOVING
In 1971, the Sisters move definitely to the rectory.

COMMITMENTS
Why are we setled in Baie Trinité, a small locality on the North shore ? We live among unassuming people who trust us. We are a presence and a listening ear to the aged and sick, to youth, to the underprivileged. They receive our attention and our help. Volunteering of various forms occupies our daily life. Parish pastoral ministry, in the absence of a priest, is an occasion for beneficial and enriching contacts. We wish our life to be a witness to a loving God who is always near to the poor.
Go back to last page