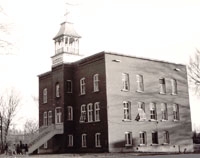 1911-1980



GEOGRAPHICAL LOCATION
This municipality is in the Brome-Missisquoi County south of Frelighsburg, north of Cowansville, west of Lake Brome and east of St. Ignace of Stanbridge and Bedford.

FOUNDING OF THE CONVENT
In 1910, Father J. I. Larose, parish priest of St Croix (Holy Cross) parish in Dunham, asked Mother Saint Ignace de Loyola (Marie-Louise Gatien), superior general of the Sisters of Saint Joseph of Saint Hyacinthe, if she could send some nuns to teach in his parish. He received an affirmative answer. On September 16, 1911, four sisters left the Mother House and took up residence in the convent in Dunham.

FOUNDERS
Sister Saint Hilaire (Exina Durocher)
Sister Saint Antoine de Padoue (Laura Leblanc)
Sister Saint Clement (Albina Lapierre)
Sister Saint Placide (Rose-Anna Gaucher)

FIRE
During the night of March 1, 1916, a fire caused by the faulty heating system spread throughout the convent. There was no loss of life. The four sisters and fourteen boarders managed to escape with barely enough time to dress. The building and its contents were totalled destroyed.
On December 23, 1916, a new and larger convent opened its doors. After the arrival of the Our Lady of Mercy Brothers in 1951, the sisters taught only the girls.

DEPARTURE
On July 3, 1978, the sisters left this parish in Dunham. They had worked there for 66 years.
Go back to last page