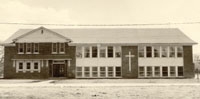 1955-1972



GEOGRAPHICAL LOCATION
The parish of St. Armand is an offshoot of one of its neighbour, Pigeon Hill. Its other neighbours are: on the north side, Stanbridge and Bedford; on the west side, Phillipsburg; and on the south side the state of Vermont across the Canadian-American border.

FOUNDERS
Sister Marie St. Paul (Emma Benoît)
Sister St. Catherine de Ricci (Alice Fréchette)
Sister St. Pierre d'Alexandrie (Aline Larivière)
Sister Joseph de Bethleem (Albanie Blain)

DEPARTURE
In June 1972, the sisters left St. Armand for good, after 17 years of dedicated service at the school and in the parish.
Go back to last page