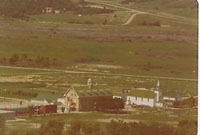 1901-1979



GEOGRAPHICAL LOCATION
Marieval is in the Qu'Appelle Valley, in the province of Saskatchewan, 20 kilometres north of Broadview. To the east, the Qu'Appelle River connects all the lakes in the valley. In Marieval, it connects Round Lake to Crooked Lake.

FOUNDING
After having been repeatedly beseeched by Bishop Adélard Langevin, of St. Boniface, Bishop Louis-Zéphirin Moreau, of St. Hyacinthe, finally gave in. He agreed to send some Sisters of Saint Joseph, in 1901.

FOUNDERS
Sister Saint Nom de Marie (Hermindre Langevin)
Sister Marie du Bon Secours (Odina Richard)
Sister St. Rosaire (Cornélie Lussier)
Sister St. Augustin (Clara Boisvert)

DEPARTURE
On June 1979, the sisters left Marieval for good.
Go back to last page