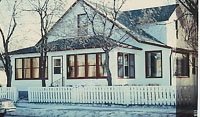 1952-1958 et 1972-1987



HISTORY
On September 4, 1952, after a fire destroyed the Sturgeon Landing School, the Sisters of the Presentation of Mary welcomed four Sisters of Saint Joseph into their home, allowing them to use the top floor of the building. A month later, this large four-floor building, which belonged to the bishop, was made available to the staff and pupils of Sturgeon Landing. The Sisters of the Presentation, consequently moved into a private house, near Sacred Heart School which they managed.

PERSONNEL
Sister St. Eusèbe (Odile Hains)
Sister St. Odile (Marguerite Hains)
Sister Madeleine de la Croix (Thérèse Tétrault)
Sister St. Leopold (Gabrielle Morin)
Sister St. Luc (Agathe Mondor)
Sister St. Alphonse (Adrienne Grégoire)
Sister Marie Zéphirin (Marie-Anna Poirier)
Sister Thérèse de Jésus (Thérèse Leblanc)
Sister St. Solange (Lucienne Langelier)

FIRST DEPARTURE
On September 2, 1958, the sisters left The Pas and moved to Clearwater Lake, into the new building, Guy Hill Residential School, which replaced the Sturgeon Landing School.

MISSION
On July 12, 1972, since the Oblate Fathers had decided to turn over the administration of Guy Hill Indian Residential School to the laity, the sisters left Clearwater Lake and returned to The Pas. They took up residence in the old building belonging to the bishop. They worked in new fields of apostolate: St. Anthony's Hospital, the St. Paul's Residence for the Elderly. Two sisters were involved in education, one in special education and later on one at the junior high level.
In July 1978, they moved into a private house bought by the congregation.

DEPARTURE
On April 26, 1987, the sisters left The Pas.
Go back to last page