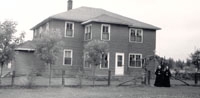 1943-1987



GEOGRAPHICAL LOCATION
Cumberland House is in the province of Saskatchewan, on Pine Island which is between Cumberland Lake and the Saskatchewan River. It is approximately 95 miles from The Pas if one travels on the river, or fifty in the winter when one can travel over the frozen river and cut through the forest or if one travels by plane.

FOUNDING
Charlebois School was not functioning very well. Difficulties increased and it became impossible to find a teacher. Therefore, Father Napoleon Doyon, OMI, turned to Mother Saint Jean Berchmans (Blanche Meunier), superior general, and obtained Sisters of Saint Joseph for his school.

FOUNDERS
Sister Saint Athanase (Élise Lussier)
Sister Saint Arsene (Rose Langstaff)
Sister Sainte Florence (Marie Mélançon)
Sister Saint Jacques (Laurette Bernatchez)

DEPARTURE
The mission of Cumberland closed its doors in May 1987.
Go back to last page