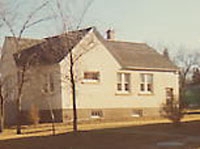 1978-1984



GEOGRAPHICAL LOCATION
The rectory where the Sisters lived was on Calgary Street, beside St. Mary's Roman Catholic Church and faced north.

FOUNDERS
Sister Adrienne Poirier
Sister Rose Cournoyer

MISSION
On September 5, 1978, two Sisters arrived at Broadview. They visited the sick in the hospital or at home as well as the aged. They taught catechism to the boarders at Marieval Residence and gave catechism correspondence courses to the day school students.

DEPARTURE
The Sisters left definitely in June 1984 after six years of dedicated service in many forms.
Go back to last page