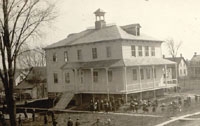 1909-1974


GEOGRAPHICAL LOCATION
The parish of St. Jude is part of the St. Hyacinthe district. It encompasses all the land of the St. Ours seigniory as well as the land north of the Yamaska River all the way to the parish of St. Ours.

FOUNDING
In June 1909, Father Elphège Filiatrault, with the consent of the school board, asked Mother du Coeur de Jesus (Marie-Louise Bouchard), superior general, for sisters for the town school. The request was granted.

FOUNDERS
Sister Marie-Joseph (Adéle Dancause)
Sister St. Ambroise (Virginie Desmarais)
Sister Marie du Carmel (Marguerite Girard)

MOVE
On November 14, 1960, the sisters moved into their residence in the new central school of St. Jude.

DEPARTURE
In the summer of 1974, the sisters left the parish after being dedicated for 65 years to educating the local children.
Go back to last page