St. Joseph de Sorel (St. Joseph School)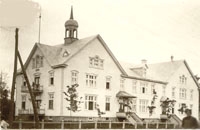 1905-1979



GEOGRAPHICAL LOCATION
The St. Lawrence River borders this parish on its north and west sides. The Richelieu borders it on the south side. On the south side are the parishes of St. Roch and Contrecoeur. The school was located on Montcalm Street, next to the church. There were five classrooms.

FOUNDING
In the spring of 1905, Father Jean-Marie Cadieux, parish priest and president of the school board, asked Mother St. Anne (Apolline Dancause), superior general, to provide sisters for the town school. This was approved and the sisters arrived on September 11, 1905.

FOUNDERS
Sister du St. Nom de Jesus (Cléophée Leblanc)
Sister St. Gertrude (Rose-Alba Dauphinais)
Sister St. Marc (Rose-de-Lima Brodeur)
Sister St. Georges (Marie-Anne Leblanc)
Sister St. Dosithee (Louise Lussier), novice
Sister St. Clement (Albina Lapierre), novice
Sister Marie-Ange (Gracia Lacroix), novice

MOVE
In 1970, the sisters left St. Joseph's School and went to teach at Martel School.

DEPARTURE
In June 1979, the sisters left St. Joseph's parish for good.

BRIEF RETURN
In August 1998, four sisters accepted an invitation from the parish council president to reside in the rectory which had been vacant for two years and to accomplish certain tasks in the milieu. After living there for a year, they left St. Joseph de Sorel parish in 1999.
Go back to last page