Saint Hyacinthe (Moreau School)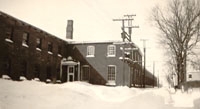 Practical training school
1890-1917; 1926-1967



HISTORICAL BACKGROUND
In 1889, Misters Raymond, our neighbours and some high-ranking citizens of the city asked the major authorities of the community to open a private class for boys who needed special help with their studies if they were to succeed. The proposal was accepted.
On February 17, 1890, a class was opened in a room at Mother House. Sister du Sacre Coeur [of the Sacred Heart] (Alphonsine Perron) was the teacher. In September 1890, girls joined the group and a day school comprised of three classrooms came into existence. The school was closed in 1917, but reopened its doors in 1926 when it was named Moreau School. In 1937, it became the St. Joseph Workshop (Chalifoux House) and it continued to develop.

TEACHERS
1927: Sister St. Placide (Rose-Anna Gaucher)
1929: Sister St. Viateur (Hedwidge Bernier) joined Sister St. Placide and shared her teaching duties.

CLOSING
Due to the increasing demands of the Minister of Education and the decreased number of enrolments for the following September, the school closed its doors in 1967.
Go back to last page