You are here: Home / Associated Text
Freely and in full confidence, I accept God,
Who is Peace and Liberty.
I know that He watches over me
And by His all-powerful love,
Has the power to change our hearts.

He is the great Creator of life and of all human beings.
He created us personally,
That we may be creators with Him.

I accept Jesus, His only Son whom He loves,
As I know He loves me also.
His birth is a new and mysterious life,
And Mary, his mother, is a virgin
As we young people are.

I know that Jesus suffered inwardly
And that he suffers with me when I suffer.
That his passion continues in life,
When, by our words, we crucify others.
To be dead and buried today,
Is to bear rejection and indifference.

Jesus has risen to a new life.
He is not just anybody, since he is at the right hand of God.
Jesus watches over us, even though he is no longer on earth,
For we need him.

I believe the Spirit dwells in me,
Invites me to do good and prevents me from doing evil.
I believe that God pardons me and loves me always
In spite of my weaknesses,
He is with me.
I believe I will live even after death,
For a new life, for a great reunion
And that life will be beautiful
Because we are important in God's sight.

This is the accomplishment of my request and my prayer.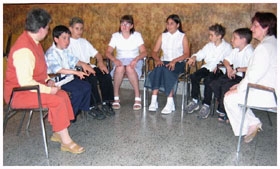 Confirmation group of Très-Sainte-Trinité parish, Granby

April 16 and 17



Diane Roy, associate
Go back to last page