Saint Hyacinthe (ESSJ - Notre-Dame)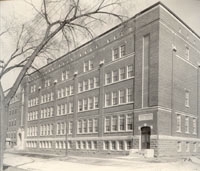 1953-1989



FOUNDING
Since Raymond School and Larocque School were overcrowded, the member of the Girouard School Board asked Mother St. Madeleine de Pazzi (Sara Cordeau), superior general, to open a classroom for the 10th grades students.
Two rooms were allotted for this on the third floor of the Mother House: one across from the elevator and the other not far from there.

FOUNDERS
Sister Aimee de l'Eucharistie (Florence Phaneuf)
Sister Jean de la Paix (Françoise Phaneuf)
Sister Angelina de Jesus (Jeanne Asselin)

MOVE
The number of students continued to increase and once again classroom space was insufficient. In September 1954, the school used rooms on de la Bruère Street, above the community laundry facility. In 1960, two classrooms at Moreau School were used by the high school. In 1966, there was a general reorganizing of classrooms. Since the normal school no longer existed, all the rooms on Notre Dame Street became high school classrooms. The number of students continued to increase and so, in 1984, the students of secondary 3, 4 and 5 were moved into rooms in the former Home Economics School on Bourdages Street. In 1991, the school accepted boys for the first time and three boys enrolled. Each year, the number of boys increased. In 2002, the Notre Dame Pavilion closed its doors and the students attended classes in new and more functional school blocks adjacent to the Bourdages Pavilion. These two buildings were named Elisabeth Bergeron Pavilion and Bishop Moreau Pavilion.

MISSION
Over the years, the sisters took on new responsibilities: students' residence, integrated education, complementary educational activities. The sisters continued to serve with joy, availability and competence.

DEPARTURE
In 1989, the sisters left their residence so their rooms could be used by the school. In 1994, the principalship was no longer the responsibility of a sister. From then on this position belonged to a lay person.
Go back to last page