Saint Hyacinthe (St. Joseph's Normal School)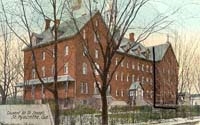 Scolasticate
1937-1966



HISTORICAL BACKGROUND
After the Central Bureau of Catholic Examiners no longer gave teaching diplomas, the Sisters of Saint Joseph Institute experienced a drop in student enrolment. And so, the community decided to ask for a right already given to other communities: that of owning and operating a normal school.

FOUNDING
Mother St. Jean Berchmans (Blanche Meunier) and her council beseeched Bishop Fabien-Zoël Decelles of St. Hyacinthe to authorize then to make this request. Bishop Arthur Douville, auxiliary bishop, was their advocate in their dealings with the Quebec authorities.
Mr. Jules P. Labarre, general inspector of normal schools, later notified the sisters that the Public Education Department's had authorized them to operate a normal school in St. Hyacinthe.
Since the institute did not have the funds needed to build a new school block, the second floor workshops of the Chalifoux Factory on de la Bruère Street were used as classrooms. What was formerly the junior school now opened its doors to normal school students. There were forty-two students enrolled the first year. And so it was that the St. Joseph's Normal School became a reality.

FOUNDERS
Sister Marie de la Trinite (Jeannette Rajotte), principal
Sister St. Seraphine (Albina Lavallée)
Sister Marie de la Salette (Cécile Pelletier)
Sister St. Zacharie (Patricia Bibeau)
Sister St. Sylvestre (Jeanne Sylvestre)
Sister St. Bernard de Citeaux (Annette Bernard)

SOME STATISTICS
Students from 1941 to 1955 : 1512
Diplomas given out:
superior: 58
complementary: 220
elementary: 391
"B" class: 244
"C" class: 482

CLOSING OF THE SCHOOL
The normal school magnificently fulfilled its mission. Founded to train quality Christian educators, it prepared over a thousand teachers who were able to dedicatedly share their knowledge with the children and young people of the region.
In June 1966, the major superiors of the congregation closed the school at the request of the Minister of Education.
Go back to last page