Saint Ignace de Stanbridge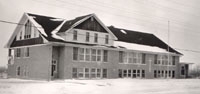 1947-1974


GEOGRAPHICAL LOCATION
This parish is an offshoot of the Notre Dame des Anges parish in Stanbridge. Its neighbours are: Farnham on the north side, Dunham and Brigham on the east side, Bedford on the south side, and Notre Dame de Stanbridge on the west side.

FOUNDING
By 1947, the number of pupils attending the local school had increased so much that two new teachers had to be hired. "Why don't we hire two sisters?" someone asked. The members of the school board then asked their parish priest, Father Albert Salvail to take their request to Mother St. Jean Berchmans (Blanche Meunier), superior general.

FOUNDERS
Sister St. Leonard de Port Maurice (Julia Rajotte)
Sister St. Ephrem (Madeleine Desmarais)
Sister Alphonse Rodriguez (Marie-Louise Plouffe)

DEPARTURE
In June 1974, the parishioners gathered to thank the Sisters of Saint Joseph for their 27 years of dedicated work with the children of St. Ignace. The sisters left after the school closed for the summer.
Go back to last page