Tracy (Marie-Auxiliatrice School)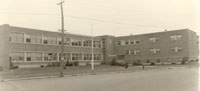 1952-1988



GEOGRAPHICAL LOCATION
The Marie Auxiliatrice parish is an offshoot of the St. Joseph of Sorel parish. It is west of the Richelieu River, south of St. Joseph of Sorel parish, east of Enfant Jesus parish, north of St. Roch. The Quebec Iron and the Titanium Companies, located in Marie Auxiliatrice, own the river front lot on the Richelieu River which are part of the parish.

FOUNDING
Father Alfred Lalime and the members of the school board ardently wanted to entrust the St. Joseph of Sorel School to the Sisters of Saint Joseph of Saint Hyacinthe. At the request of Mr. Willie Mongeon, president of the school board, Mother St. Madeleine of Pazzi (Sara Cordeau), superior general, made it possible to open a new school with seven teaching sisters to replace the lay teachers. The construction of the school including a sisters' residence was then started.

FOUNDERS
Sister Theresa of the Cross (Lucille Gemme)
Sister St. Peter of Verone (Suzanne Bilodeau)
Sister Catherine of Sienna (Marie-Anne Gaumond)
Sister Madeleine of the Saviour (Madeleine Manny)
Sister St. Francis Solano (Garielle Morissette)
Sister Henry of St. Joseph (Irène Blanchette)
Sister Theresa Martin (Jacqueline Francoeur)
Sister St. Maria Goretti (Marielle Vadnais)

DEPARTURE
In 1980, the nuns left the parish of Marie Auxiliatrice.
Go back to last page