Sorel, St. Maxime (Maria Goretti School)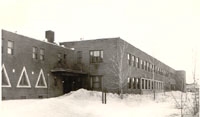 1951-1975



GEOGRAPHICAL LOCATION
St. Maxime de Sorel is comprised of a former part of the St. Pierre parish starting at Provost Street, a former part of Notre Dame du Perpetual Secours parish [Our Lady of Perpetual Help] starting at Phipps Street, along with a section of the city that extends towards St. Anne, St. Robert and St. Victoire.

FOUNDING
In 1950, the school board decided to build a new school due to the increase in population and consequently in the number of school children. The school board members and their president, Mr. Paul-Émile Péloquin, asked Mother St. Madeleine de Pazzi (Sara Cordeau), superior general, to do them a favour, that is to say, to send them some Sisters of Saint Joseph to manage this school. The favour was granted.

FOUNDERS
Sister St. Gaetan (Annette Peloquin)
Sister Pauline du Carmel (Marie-Josephe Gatien)
Sister Pauline des Anges (Pauline Lussier)
Sister St. Laurent (Béatrice Laliberté)
Sister St. Claire d'Assise (Marie-Claire Éthier)
Sister Rose de St. Marie (Gervaise Flibotte)
Sister Alphonse de Jesus (Yolande Bessette)
Sister Marie du Redempteur (Germaine Deslandes)
Sister Angele de Marie (Angèle Péloquin)

DEPARTURE
In June 1975, the members of the school board transferred Sister Monique Nadeau to St. Gabriel Lalemant School as assistant principal and the other sisters withdrew from the parish of St. Maxime de Sorel.
Go back to last page