Brossard
(St. Jean de la Lande School)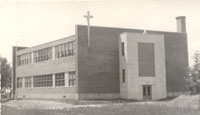 GEOGRAPHICAL LOCATION
In 1947, this parish had a school with only one teacher, Miss Marthe Plamondon. The school was also used for Sunday masses. And so, St. Hubert school board decided to ask Mother St. Jean Berchmans (Blanche Meunier), superior general, to provide some teaching sisters.

FOUNDERS
Sister Therese de la Charity (Bernadine Martin)
Sister St. Veronique (Hélène Lemay)
Sister St. Frederic (Yvette Guérin)

DEPARTURE
On June 30, 1972, the school needed the rooms that were used by the sisters. The sisters therefore moved to Croydon.
Go back to last page