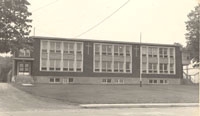 1958-1971



GEOGRAPHICAL LOCATION
St. Alphonse is situated along the north branch of the Yamaska River, about halfway between Granby and Farnham. The neighbouring parishes are Granby, Ange Guardien and Farnham.

FOUNDING OF THE SCHOOL
A first request for sisters was made in April 1947. It was addressed to Mother St. John Berchmans (Blanche Meunier), superior general, by Father Emilien Ravenelle, parish priest. Regretfully, his request could not be met.
On July 1957, a new invitation was made, this time by the town school board. It received an affirmative answer from Sister Madeleine of Pazzi (Sara Cordeau), superior general.

FOUNDERS
On Wednesday, August 5, 1958, the FOUNDERS arrived.
Sister St. Robert Bellarmin (Pauline Filion)
Sister Marie de Nazareth (Élisabeth Gloutnez)
Sister St. Antoine de Padoue (Yvette Gévry)
Sister Marie France (Ghislaine Salvail)

DEPARTURE
In 1970, the sisters residing in the parish left. The new school principal, needing new rooms for the school, used those that were formerly part of the sisters' residence. The sisters went to live in St. Benoît of Granby. They travelled from Granby to St. Alphonse of Granby in order to teach two more years in this area. They left in 1972.
Go back to last page