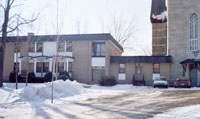 1979-1992



GEOGRAPHICAL LOCATION
This project operated out of the basement of the Notre Dame Church in Granby.

ORIGIN
With the help of God and of the local merchants and non-profit organizations, a group of social-welfare recipients who were tired of being unemployed decided to prepare and serve a hot meal per day, five days a week, to those more disadvantaged than themselves.

TEAM CO-ORDINATOR AND CONTACT PERSON
Sister Marie-Reine Beaudry

TEAM MEMBERS
Father Roland Pelletier, parish priest
Mrs. Mimi Duhamel, from the volunteer center
Mr. Roméo Tétrault, a dedicated parishioner

DEPARTURE
This sister left the project in September 1994.
Go back to last page