Granby (St. Joseph School)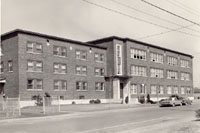 1950-1974



GEOGRAPHICAL LOCATION
An offshoot of the Sainte Famille Parish, the parish of St. Joseph, in Granby, is situated in the north-east section of the city, between York Street and the limits of Roxton Pond.

FOUNDING
After repeatedly asking the general council of the Sisters of Saint Joseph of Saint Hyacinthe for some sisters, the school board members finally got an affirmative answer. In the spring of 1950, the sisters took charge of St. Joseph's School.
The school was opened in September 1950 and the sisters were able to move into their residence on September 12.

FOUNDERS
Sister Marie St. Fabien (Cécile Salvas)
Sister Jeanne de Marie (Jeanne Légaré)
Sister Claire de l'Eucharistie (Claire Cournoyer)
Sister Louise de Jésus (Louisette Chevrier)
Sister Madeleine du Précieux Sang (Madeleine Cadieux)
Sister Marie Joseph (Micheline Beauregard)
Sister Madeleine du Divin Coeur (Madeleine Tougas)

DEPARTURE
In June 1974, the sisters left the parish of St. Joseph for good after having worked there for 24 years.
Go back to last page