Granby (St. Benoît School)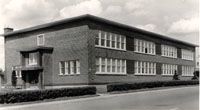 1954-1984



GEOGRAPHICAL LOCATION
The parish was made up of the former parishes of Notre Dame, Sainte Famille, and St. Eugène.

FOUNDING OF THE SCHOOL
From 1950 to 1953, the pupils of the St. Benoît Parish were dispersed throughout the various schools in the city of Granby. A new school was then built for them, on York Street. In the fall of 1953, following the requests made by the school board and by the parish priest, Father Edouard-Léon Paulinus, two sisters of Saint Joseph were sent to teach at St. Benoît School while continuing to live in the St. Joseph Parish.
When the school board made plans to prepare a residence for the religious personnel of the St. Benoît School, Mother St. Madeleine of Pazzi, superior general, accepted this new arrangement.

FOUNDERS
Sister Marie St. Fabien (Cécile Salvas)
Sister Madeleine du Divin Coeur (Madeleine Tougas)
Sister St. Thérèse Martin (Jacqueline Francoeur)

DEPARTURE
As of June 29, 1979, there were no longer any sisters teaching in this school. One sister was teaching at the J.-H. Leclerc Comprehensive High School.
On February 1984, Mr. Gérard Brodeur notified the sisters that the school division would be needing the building in which the sisters had been residing during the last 31 years. The sisters therefore rented an apartment at 151 Court Street, in Granby, and later on Charles Daudelin Street.
At the end of 1995, the sisters left St. Benoît, Granby, for good after having been present in this parish community for 41 years.
Go back to last page