Delson (St Thérèse de l'Enfant Jésus School)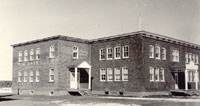 1941-1970



GEOGRAPHICAL LOCATION
Delson is situated on both sides of the Tortue River. The neighbouring towns are : on the east side St. Phillipe, on the north side Laprairie, and on the west and south sides St. Constant.

FOUNDING
On July 12, 1941, Mother St. Jean Berchmans, superior general, signed a commitment with the school board on behalf of the sisters.

FOUNDERS
Sister St. Suzanne (Lucienne Ballard)
Sister St. Mathieu (Aline Larivière)
Sister St. Estelle (Flore Brault)
Sister Claire de Jesus (Charlotte Déry)
Sister Marie St. Raphael (Marguerite Lasnier)

DEPARTURE
On June 30, 1970, the sisters left the parish.
Go back to last page